Oh, Facebook (or "the book of faces" as one of my close friends calls it). I've been a part of the community since at least 2005 - back when you had to have a .edu email address to sign up (lucky me, I have an "alumni.pitt.edu" address that worked!).
And I'm finally over it. Honestly, I was going to write a big long post as to why I deactivated my Facebook account...but then I came across
this
article, which kind of sums it up for me:
"63% of women said their friends "complain all the time." 41% hated their friends' political views, and 32% were sick of their stupid perfect friends bragging about stupid perfect lives."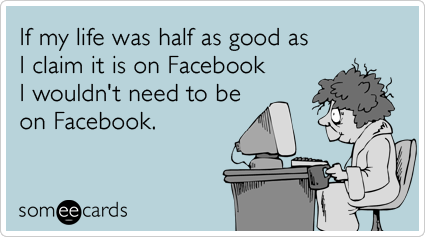 So true, so true.
Basically, I got tired of the whining, bragging, and political posts that made me feel like my friends wouldn't actually
be
my friends if I was at all vocal about
my
political views because we don't agree. Facebook was depressing me - I was finding myself being snarky and mean because of the way others were using it, and I don't want to be that person.
It's been a few weeks now and honestly? I don't miss it. It's kind of nice not to have to see the 3 albums worth of vacation photos from Bora Bora or read cryptic messages about how things-are-terrible-but-I-don't-want-to-tell-you-why-I-just-want-attention or 10 posts about something political flying in your face. Because no one talks about how they saved for 3 years to take that trip, or about how they're just lonely and Facebook makes them feel more connected, or about how you really don't care as much as you seem about politics and that you're ok with friends on both sides of the political coin.
So, it's nice. I'm not sure if this is forever, but right now I'm defintely enjoying being 100% Facebook free.